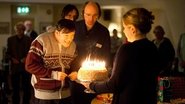 Overview
It's Derek's 50th birthday; what better way to celebrate than with a party at Broadhill retirement home?
Derek knows exactly what he wants: JLS, Susan Boyle and Stacey Solomon for music, and vol-au-vents, sausage rolls and chicken Kiev for food.
And there's a new addition to the staff: community service worker Vicky, who's convinced she looks like Victoria Beckham.
Overview from themoviedb.org